preferred supplier again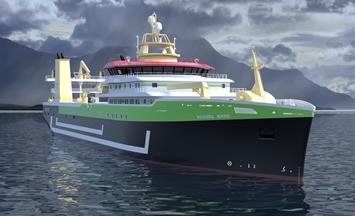 We are proud to announce that DSI Dantech has been chosen by Parlevliet & Van Der Plas B.V. to supply 44 vertical plate freezers, specifically the Type V8 26/100 B SS Co2, for their new pelagic freezer trawler.
Measuring an impressive 111.5 meters and designed by Skibsteknisk, Norway, the freezer trawler " NB1119" will set new standards in fuel efficiency and sustainability. The trawler will primarily target pelagic species such as herring, sardines, mackerel, horse mackerel, and blue whiting. To ensure the preservation of freshness, quality, and flavor, the seafood will be frozen directly onboard using the vertical plate freezers supplied by DSI Dantech.
We feel privileged that Parlevliet & Van Der Plas has entrusted us with the important responsibility of equipping their new freezer trawler. This contract exemplifies our commitment at DSI Dantech to deliver customized and high quality freezing solutions that align with our objective of optimizing customer results while also contributing to environmental protection.
Having already delivered several successful plate freezing solutions for previous projects with Parlevliet & Van Der Plas B.V., we are honored to be selected as their preferred supplier once again.