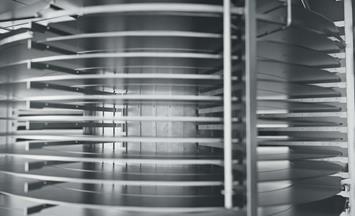 Cryogenic freezing
Cryogenic freezing is the fastest IQF freezing method on the market. In cryofreezing, the items are sprayed or immersed directly in liquid nitrogen or carbon dioxide and frozen almost instantly. The method prevents the formation of macro crystals – which is preferable, as large ice crystals rupture the food's cell membranes and cause fluid loss. The lack of macro crystals results in the highest product quality of frozen and chilled food that sustains its natural nutritional value, taste, and shape.
Cryogenic freezing is relevant for industries where food safety and food quality is of the essence, and it is widely used among manufacturers that add high value to their products. Examples are special baked goods, seafood, meat, poultry, and dairy products. It is also relevant in nonfood industries, such as pharma and metal.
We recommend cryogenic freezing for new production lines, seasonal production, or small and medium productions of high-quality food. The investment in a cryogenic freezing solution is 2.5 times lower than in a mechanical solution, the initial start-up costs and operating costs are lower, dimensions are smaller, and cryogenic equipment is always ready to use and easy and fast to clean. However, as production grows, the operational costs of cryogenic freezing will exceed the costs of running a mechanical solution.
Want to know more about individual quick freezing (IQF)?
Individual quick freezing